Category Archives:
John Gilstrap
Those who follow this blog know that I have been resisting e-books.  To me, there is nothing like the smell and feel of a REAL book.  However, progress is progress and I am softening my stance.  Besides the technology is cool.  (See my Technical Blog, TelBitConsulting.com).
This weekend I saw a posting on Facebook by John Gilstrap.  He mentioned that he has just taken his first steps into the e-book world and gave two links.
Since I really enjoyed "No Mercy" by John Gilstrap (click on John's link to the right).  I figured I'd give his links a try.
Here are the steps I took:
I  downloaded the free Kindle for a PC as per the link John gave on his Facebook entry:   http://tinyurl.com/yja443f
The download and installation went smoothly.
Then I went to "Fresh Kills, Tales from the Kill Zone" link on Amazon and downloaded the e-book ($2.99 is very reasonable).   Here is the Amazon link:  http://tinyurl.com/yznbz55
I had to go back onto the Kindle software to complete the download but once I did that, I had "Fresh Kills" on my computer.  (I hope Amazon got my $$ since I had not gotten an indication that they did.)
The free Kindle user interface and usage is lacking. It was hard to find John's  "In the After".  I could not jump to it, nor were the stories broken up into easily accessible chapters, and the titles are all clumped together.  I went page by page until I found it, then bookmarked it.  That worked.  :-)
I read the story quickly (well, as quickly as I can read).  It was VERY good, about a writer and his wife being held accountable for a past article that caused the suicide of the terrorists father.   4 WaterTowers.  :-)
Summary
Since I sit on the computer all the time, reading a short story on it was fine.
I probably would prefer the Kindle (or Nook..see my intro of the Nook on this blog) since the screen is better for intense reading than my laptop.
OK, I'm changing…I'll probably get an e-reader at some point but will still buy real books.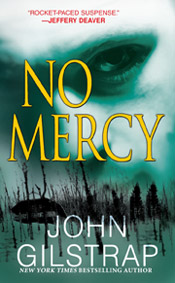 Genre: Thriller
Rating:  4 WaterTowers (brutal action !)
"No Mercy" is an ARC sent to me by John Gilstrap.  It was due in stores in July 2009.
Jonathan Grave is the private equivalent of the FBI's Hostage Rescue Team.  He will find and rescue people faster and more efficiently than any government agency can…as long as the money is there.
He is very good at what he does and will kill without hesitation (if provoked).
"No Mercy" opens with Jonathan at the scene of a kidnapping.  He has planted listening devices, knows where the person (Thomas Hughes) is being held, and is keeping an eye on the two no-aacounts holding Thomas.  Unfortunately, one of the kidnappers is becoming increasingly erratic and has decided to kill Thomas rather than wait for the third member to show up at the house.
Jonathan has to act now.
With military precision Jonathan blows out the door to the basement and takes down the kidnappers.  As he is taking Thomas to the helicopter (flown by Brian Van de Muelebroeke, "Boxers") the third kidnapper shows up and chooses stupidly to shoot it out with Jonathan.
Jonathan disappears without a trace (so he thinks).
The shooting deaths of three people in Samson, Indiana leaves new Sheriff Gail Bonneville in a quandry.  Her deputy, Jesse, understands from the beginning that this was a rescue and not a cold blooded murder, but, Sheriff Bonneville wants justice and will stop at nothing to find the person who did this. With an FBI Hostage Rescue background, Sheriff Bonneville has the ability to find details that others might miss.
Back home, Jonathans ex-wife (Ellen) asks him to find her new husband (Tibor) who has gone missing.  Although Jonathan hates Tibor, he does his best to find him.
What he finds shocks him on several levels.
The kidnapping and Tibor's disappearance are related, it was no accident that Jonathan got in involved in Thomas's rescue, and something was stolen by terrorists (from Carlyle Industries) that has worldwide implications, both politically and militarily.
With Sheriff Bonneville (and others) hot on his heels and multiple torture murders of anyone that appear to be involved in the theft and kidnapping (including people very close to Jonathan); Jonathan, Boxers, computer whiz Venice, and Priest Dom have their hands full trying to find, confront, and hopefully defeat the Green Brigade terrorists.
The battle at the end of the book is fast moving, and extremely brutal.  Hold on to your seats!
"No Mercy" is the first book I have read by John Gilstrap and will not be the last. Excellent characters, realistic action, and great pacing make this book a must to pick up and read.